Guide: Boiler Model: SZL10-1.6-AII
Rated Steam Capacity: 10t/h
Rated Pressure: 1.6MPa
Rated Steam Temperature: 204℃
Boiler Thermal Efficiency: 86%
Application: pape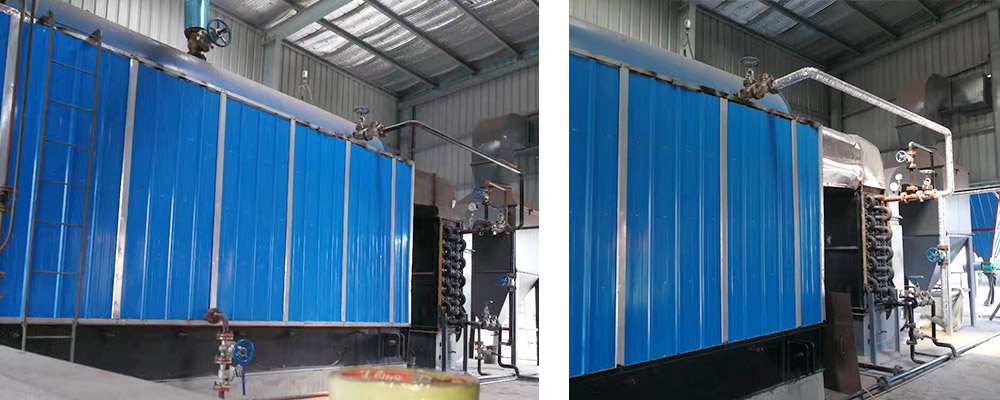 Boiler Model: SZL10-1.6-AII
Rated Steam Capacity: 10t/h
Rated Pressure: 1.6MPa
Rated Steam Temperature: 204℃
Boiler Thermal Efficiency: 86%
Application: paper factory
Project Country: Bangladesh
Xinli 10t/h coal fired steam boiler is used for paper factory in Bangladesh, the boiler model is DZL series chain grate boiler, the boiler feed coal fuel automatically, could save labor cost. This series coal boiler uses the new scientific achievement, such as arch tube plate, screw fire tube, thus, water wall tube will not explosion, has high efficiency, sufficient output, and wide adaptability of coal types.

Characteristics of Chain Grate Coal Boiler
1) The chain grate could resist the temperature as high as 1200℃, long working life.
2) The chain grate has a low coal leakage because of the small gap.
3) High automatic degree, decrease labor cost.
4) Convenient for maintenance, it could be repaired without boiler shut down.

How to Select Boiler Used for Paper Factory
1) Choose the suitable fuel for your boiler. We have oil gas boiler, coal boiler, biomass boiler, and electric boiler. Generally, the fuel is based on the local resource.
2) Determine the boiler parameter: boiler capacity, boiler pressure or temperature you need. The boiler capacity is based on paper productivity, if you don't know what boiler capacity is needed, our engineer could help to calculate the capacity, and offer the optional recommendation.
3) Determine the boiler efficiency. In order to benefit for economic management, the boilers should have high thermal efficiency, and the boiler output, quantity and other performances have to adapt to the change of heat loading. We have different boiler models with various efficiency for choose.
4) It is better to select the boilers with same capacity or combustion equipment. If different, the max limitation is two models, to decrease the problems of equipment layout and management.