Guide: Asia-Pacific Biomass Energy Exhibition (APBE 2020) Time: August 16-18 Venue: Guangzhou•Canton Fair Exhibition Hall 180+ exhibiting brands, exhibition area 18,000 square meters, over 100 countries, 20,000 professional visitors, the seventh annual focus of 2020 Asia Pacific International Biomass Energy Summit Forum 2020 China High-Efficiency and Low-Nitrogen Combustion Technology Application Seminar 1. Market Analysis Facing the increasingly severe energy situation
Asia-Pacific Biomass Energy Exhibition (APBE 2020)
Time: August 16-18 Venue: Guangzhou•Canton Fair Complex
180+ exhibiting brands, an exhibition area of 18,000 square meters, more than 100 countries, 20,000 professional visitors
Exhibitor consultation: Deng Shuping 13527794706
Global event, annual focus
2020 7th Asia Pacific International Biomass Energy Summit Forum
2020 China High-efficiency and Low-nitrogen Combustion Technology Application Seminar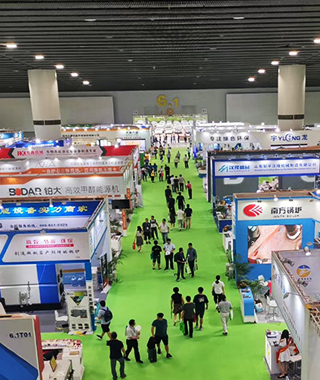 1. Market analysis
  Facing the increasingly severe energy situation and the urgent need to adjust the energy structure, biomass energy has huge room for development, and it can replace fossil fuels to promote the sustainable development of green industries. Throughout the world, the development and utilization of biomass energy has become an important strategy for countries around the world to maintain their own energy security. As of 2015, the total global production of biomass briquettes was about 30 million tons. Europe is the world's largest consumption of biomass briquette fuels. Among them, the Nordic countries Sweden's biomass briquette heating accounts for about 70% of total heating energy consumption. . Japan and South Korea are important consumption areas of biomass fuels in Asia. They are used for power generation and thermal power plants. The fuels mainly come from Malaysia, Thailand, Vietnam, Indonesia, China and other regions. Biomass power generation The global installed capacity of biomass power generation is about 100 million kilowatts, including 15.9 million kilowatts in the United States and 11 million kilowatts in Brazil. Biomass cogeneration has become an important heating method. Japan's waste incineration power generation process accounts for more than 70% of the harmless treatment of domestic waste; the global biogas production of biomass gas is about 57 billion cubic meters, and the production of biogas in Germany exceeds 20 billion cubic meters. Sweden's biogas meets 30% of the country's Gas demand. The global consumption of bio-liquid fuels has reached 100 million tons. Brazil's sugarcane fuel ethanol and the US corn fuel ethanol have been applied on a large scale.
2. Development history
  2012-Canton Fair Complex Area A: 68 exhibitors...... 4360 domestic visitors...... 1229 international visitors
  2013-Area A of the Canton Fair Complex: 119 exhibitors...... 8790 domestic visitors...... 1483 international visitors
  2014-Canton Fair Complex Area B: 141 exhibitors...9830 domestic visitors...1964 international visitors
  2015-Area A of the Canton Fair Complex: 146 exhibitors...... 12550 domestic visitors...... 1580 international visitors
  2016-Area A of the Canton Fair Complex: 151 exhibitors...12,185 domestic visitors...1603 international visitors
  2017-Area A of the Canton Fair Complex: 153 exhibitors...11969 domestic visitors...1596 international visitors
  2018-Area A of the Canton Fair Complex: 162 exhibitors...12051 domestic visitors...1573 international visitors
  2019-Canton Fair Complex Area A: 155 exhibitors...11,362 domestic visitors...1798 international visitors
  2020-Canton Fair Complex Area A: 180 exhibitors...18,000 domestic visitors...2000 international visitors (expected)
3. Expected scale in 2020
  •Exhibition Area: 18,000 sqm
  •Expected No.of Exhibitors: 200
  •Expected booths: 800
  •Expected No.of visitors: >18,000
4. Exhibition introduction
  APBE (Asia Pacific Biomass Energy Exhibition) was founded in 2012, formerly known as Guangzhou Biomass Energy Exhibition, and EUBCE (European Biomass Energy Conference), Expo biomasa (Spain Biomass Energy Exhibition) and known as the world's three major biomass energy events. Since its establishment, it has attracted more than 500 well-known brands from around the world, including Jinwu shares, Roset/Lvye, Austrian POLYTECHNIK, Hongxin Machinery, Shuangfeng Boiler, Juneng Boiler, Yulong, Sany, Qiquan, Shanghai Electric, etc. Participation of more than 100,000 professional visitors at home and abroad. With the development of the biomass industry and the continuous upgrading of APBE's globalization strategy, you will feel the influence of the APBE platform in the industry from various channels. Beginning in 2018, APBE has actively explored the Great Western Market, from once a year to twice a year. In March of each year, the West China (Chengdu) International Biomass and Biogas Conference and the Asia-Pacific Biomass Exhibition in August will be held in Chengdu and Guangzhou respectively. Held, looking forward to your participation.
5. Exhibition review
  As the annual biomass energy industry event, the "Eighth Asia-Pacific International Biomass Exhibition 2019 (APBE 2019)" came to a successful conclusion on August 18 at the Guangzhou·China Import and Export Fair Complex.
  After experiencing a very difficult and sluggish period in the industry from the end of 2017 to 2019, APBE 2019 was held as scheduled and injected a boost to the industry. The number of domestic visitors reached 11,632 slightly, and the total number of overseas visitors increased by 14% year-on-year to 1,798. During the same period, the exhibition area of ​​biomass energy, heat, boiler, air energy, drying, drying, solar, hot water, electric heating, battery power, etc. totaled 10 10,000 square meters, more than 2,000 companies, received more than 100,000 visitors. This exhibition brings together Jinwu shares, Austrian Polytechnik, Sany, Shanghai Electric, Zhengchang, Yulong, Yuguan, Qiquan, Bessell, Greenway, Huoerchi, Zhoubo, Roset, Juneng, Shuang More than 150 outstanding brands in the industry including Feng, Luding, Mediterranean, Te'an, Hongxin, Hanlong, Lugang, etc. The products cover biomass boilers, combustion equipment, molding equipment, crushing equipment, biomass gasification technology and equipment, solids Fuel, drying equipment and other supporting equipment for the entire industry chain, famous companies gather and elites gather to share new technologies, products, policies, and information, broaden contacts and channels, and help the industry find business opportunities and grasp market trends. August 2020, Guangzhou, Yangcheng, look forward to seeing you again! Organizing Committee: Deng Shuping 13527794706
6. Summit review
  The 6th Asia-Pacific International Biomass Energy Summit Forum 2019 was successfully held at Guangzhou Grand Crown Hotel on August 15-16. The two-day conference will focus on the development prospects and applications of biomass energy, policy guidance, technological breakthroughs, industrial chain integration, and business models. More than 80 experts, more than 600 industry elites gathered, New Zealand Biomass Energy Association (BANZ), International Biofuels Association, Malaysian Biomass Industry Federation (MBIC), Ukrainian Renewable Energy Agency, Ukrainian Biomass Energy Association, National Forestry Bureau, Ministry of Agriculture Planning and Design Institute, National Renewable Energy Center, China Biogas Society, China Rural Energy Industry Association, Chinese Academy of Agricultural Sciences, Tsinghua University, China Agricultural University, Jinwu Co., Ltd., Sany Environment, Shanghai Electric, Huoerchi , Debo, British Green Benke Group, Qiquan Group and other experts and business representatives gave wonderful reports. The summit forum set up the "Main Forum", "Biomass Heating Forum", "Biomass Gasification Forum", "Biogas Forum" and "Biomass Power Generation Forum". At the same time, high-level discussions and Q&A sessions were held, and the response was enthusiastic!
  [VIP guest of Asia Pacific International Biomass Energy Summit Forum]
  1. Mr. Bryan, Executive Director of the New Zealand Bioenergy Association (BANZ)
  2. Ms Zoya Zimnitskaya, Vice President, International Biofuel Association
  3. Michael Sew, Secretary General of Malaysian Biomass Industry Federation (MBIC)
  4. Viacheslav Antonenko, expert of Ukrainian Renewable Energy Agency and Ukrainian Biomass Association
  5. John Guarco, technical director and master of the American ZEECO Group
  6. Former Director of the Science and Technology Department of the Ministry of Agriculture
  7. Ren Dongming, Director, National Renewable Energy Development Center
  8. Zhang Zhongtao, Director of Industry I, Forest Products Industry Planning and Design Institute, State Forestry Administration
  9. Li Jingming, Chief Expert, General Station of Agricultural Ecology and Resources Protection, Ministry of Agriculture and Rural Affairs
  10. Xiao Mingsong, Secretary of the Biomass Special Committee of China Rural Energy Industry Association
  11. Hong Hao, Vice President of World Biomass Energy Association and General Manager of Jilin Hongri New Energy Co., Ltd.
  12. Huiyong Zhuang, Vice Chairman of Energy Development Research Center of China Investment Association, General Manager of National Energy Bioenergy Technology Co., Ltd.
  13. Dong Renjie, Director and Professor, Bioenergy Environmental Science and Technology Laboratory, China Agricultural University