Guide: Xinli WNS natural gas fire tube steam boiler is a fully automatic, safe and efficient heating equipment.
  XinLi WNS natural gas fire tube steam boiler is a fully automatic, safe and efficient heating equipment。 Fuel gas boiler Quick-install bedroom internal combustion three-pass fire tube boiler,It has compact structure, small size, strong load adaptability and low water quality requirements. The boiler adopts the wet back structure of the furnace, which has the characteristics of high temperature resistance, good sealing performance, large radiation heat transfer area and high heat transfer efficiency. WNS series boilers are widely used in industrial production and processing, such as textile industry, pharmaceutical industry, food and beverage industry, chemical industry, clothing industry, paper industry, wood industry, etc., and can also be used for central heating of enterprises, hotels, hospitals, and civil buildings.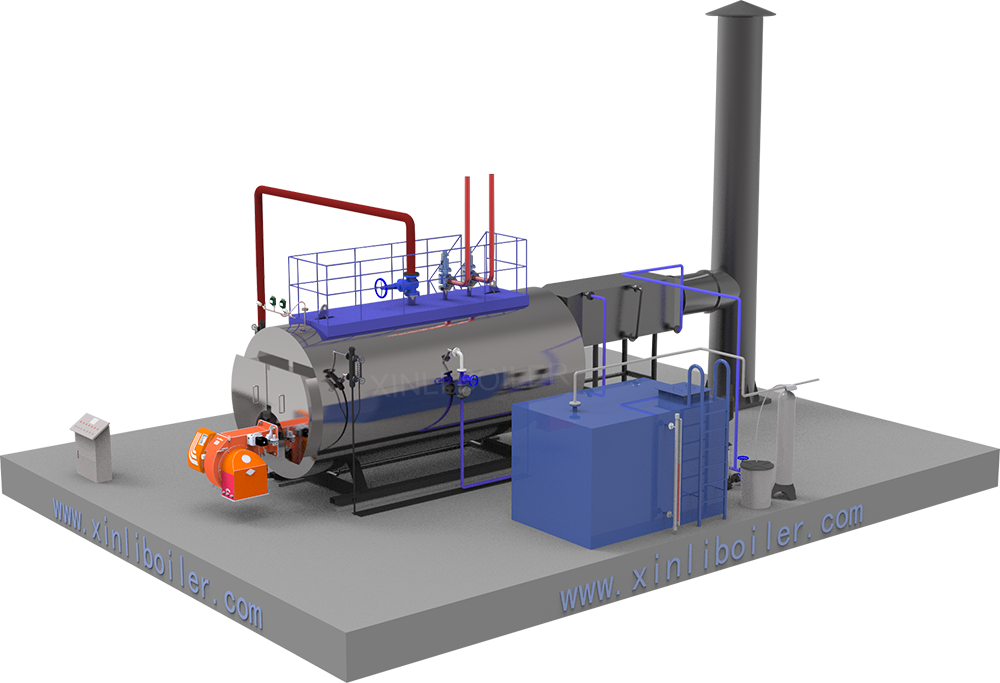 The main parameters:
Boiler capacity: 0.5~25t/h

Boiler pressure: ≤2.5MPa

Rated thermal efficiency: 90%~98%

Applicable fuel: natural gas, liquefied petroleum gas, diesel, etc.
  Performance advantages:
1. High combustion efficiency
  The burner adopts high-quality and reliable international famous brand to completely burn the fuel, with high combustion efficiency, less harmful pollutants in flue gas, and noiseless operation.
2. Large diameter corrugated furnace
  Horizontal internal combustion three-pass design structure, large-diameter corrugated furnace, large combustion space, complete fuel combustion, large radiation heating surface, and high thermal efficiency.
3. Unique sealing of front and rear smoke boxes
  The smoke box adopts a unique door to open the smoke box door, which is easy to open, multi-stage labyrinth seal, special sealing material, good compressibility, and completely prevent smoke leakage.
4. Multifunctional safety device
  The back panel of the boiler is equipped with an explosion-proof device connected to the furnace to prevent the high energy generated instantly when the fuel deflagrates violently in the furnace to ensure the efficient and safe operation of the boiler.
5. Good heat preservation effect
  The shell uses aluminum silicate board for heat insulation, 8 cm thickness, high heat insulation efficiency, low heat dissipation loss, and improves the thermal efficiency of the boiler.
6. Fully automatic chain protection program
  It has protection functions such as water shortage, overpressure, overtemperature, leakage, air leakage, motor phase loss and overload, flameout, etc., to ensure the safe operation of the boiler.
7. Configure Energy Saver
  Make full use of the heat of the boiler flue gas, reduce the temperature of the boiler flue gas, and increase the boiler thermal efficiency to 98%.